High light efficiency
180 flat light source lighting, uniform light reception, more natural color of aquatic plants.
15000K blue and white light, bright and clear.
The wavelength of the WRG LED beads specially designed for aquatic plants which
is overlap with the wavelength of the strongest absorption spectrum of chlorophyll,
and supplies the required maximizes energy for the aquatic plants and achieves the
most effective and highest light utilization rate.
Unique ″Beeds″
With the independent design UVWRRG(WRG)beeds.The unique full spectrum lamp
beads which are integrated with 5 wavelengths and wave peeks Containing 410purple
light, 630 oringe light, 660 red light 520 greed light, high color temperature, high
blue light and white light.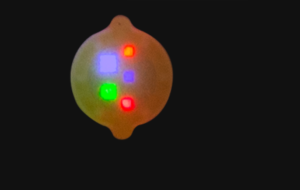 The real shot of testing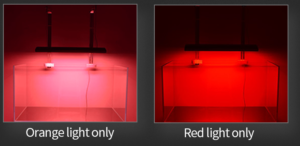 Note: The picture is shotted with WRG120 flat lamp(Same beads with the WRG65/85 lamp)
Good spectrum
Different time periods with different spectral wavelengths, The light
intensity is also different.
Good specturem,Secret of bubbling on the aquatic plants
Spectral analyzing
Preset 4 modes + custom settings to meet the needs of different plants and users

From the spectrum picture, there are 5 wave peaks. while ordinary RGB has only 3 wave peaks.
The red and blue wave peaks are more suitable for chlorophyll absorption of aquatic plants and
have stronger photosynthesis. With the full spectrum, the color rendering will be more complete.
Effect comparison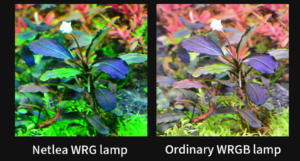 Comparison of WRG wavelength and chlorophyll range wavelength
APP CONTROL
Netlea App can be downloaded from play store and apple store